The French group Lauralu joins forces with the Finnish company Hallix to complement its expertise and accelerate its European expansion.
The Lauralu Group, designer, manufacturer and installer of modular structures, announces its acquisition of a majority stake in the capital of the Finnish company Hallix, a company specialising in the design, marketing and installation of dismountable structures used for storage, logistics and production workshops.
Based in Kokkola, Finland, HALLIX was founded in 2019 by experts in medium and wide span semi-permanent constructions. Only two years after its creation, the company now has a turnover of more than €3 million and plans to double its activity in 2021.
This acquisition will enable the LAURALU group to expand its range of products by integrating
wide span, highly-technical structures in its offer, meeting the highest market standards.
The deployment in Finland is also an opportunity for the group to welcome new international
profiles that will further accelerate growth outside of France. After the opening of subsidiaries
in the United Kingdom and Spain, the LAURALU group will now expand its activity in Austria
and Scandinavian countries including Norway, and continue its rapid development. Since the
arrival of Evolem in the capital, back in December 2018, the Lauralu group will have doubled
its turnover, with €25 million expected in 2021, and increased its installed rental fleet by
almost 70%.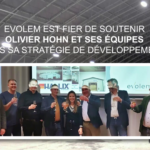 Top stories
TAKE A LOOK AT OUR ARTICLES TO DISCOVER ALL OF EVOLEM'S WORK