Margot
VILLIÉ
Student, CSR and Philanthropy Officer
Directorate of Engagement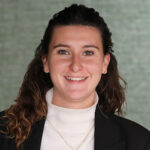 Career path
After having studied in the field of health, I chose to reorient myself and I am currently enrolled in a program of studies in solidarity management at the École 3A – École internationale de management responsable. My specialization is in the solidarity economy and sustainable finance. As part of my studies, I am currently doing a work-study program at Evolem, where I work in the commitment department.
In a few words
What motivates my activity is the possibility to contribute to building a fairer and more responsible world by working within a team that shares these values.
I chose to do my work-study in the commitment management team at Evolem because this company shares my convictions in terms of social and environmental responsibility, offers a work environment conducive to learning and is in line with my professional aspirations.