Lancelot
CADET
Associate - Start
Private Equity Department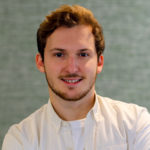 Career path
With a degree in Management of Technology and Innovation from Dauphine and Mines ParisTech, I had the opportunity to work in the digital sector before providing strategic support to large companies at Tallis Consulting, then to tech entrepreneurs on operational issues.
In a few words
I love to meet passionate (and exciting) entrepreneurs, to challenge their vision, to discover the deep motivations that drive their thirst for entrepreneurship and greatly contribute to their success. I also like to get alongside the teams and contribute to their success.
By joining Evolem, I have the opportunity to invest in sustainable entrepreneurship and to grow initiatives that carry the brand, ambition and responsibility, alongside a team of dedicated and human professionals. And I did it knowingly since I joined Evolem as an intern at the end of my studies before confirming my commitment as an Associate 8 months after my arrival.